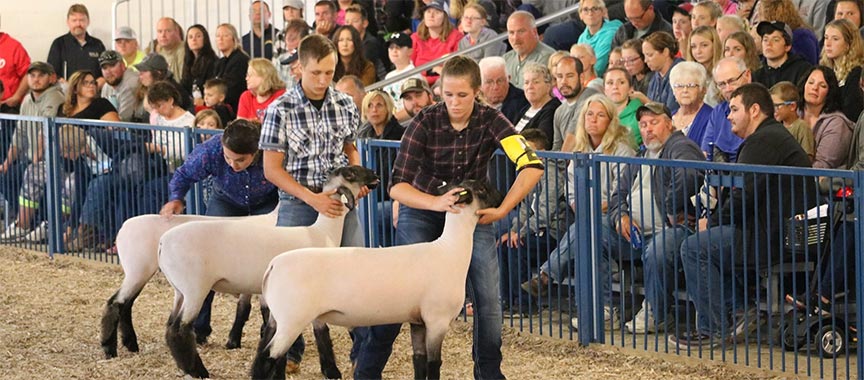 Raising an animal as a livestock project is a valuable experience for an FFA or 4-H member. Projects are the foundation of these youth programs and teaching new agricultural practices and sound business principles. Through them the young people involved gain the work experience and acquire useful knowledge, skills and attitudes.
When you purchase an animal at the Junior Fair Livestock Auction, you are buying prize livestock raised by the Hancock County FFA and 4-H programs. Each project is run like a business. Accurate records are kept, listing production costs, labor, input, and management practices. Raising these animals on a small scale can be expensive. Often their costs are higher than the commercial producers. At market price, it's hard to break even. The Junior Fair Livestock Auction gives these young people a chance to show a profit for their hours of hard work.
How to Participate:
All Buyers at the Hancock County Fair Jr. Fair Livestock Auction must be registered to participate.   Livestock Buyer Registration.
After the Sale:
Payment is expected on date of purchase. Payments not received within 30 days may incur a monthly 4% late payment fee. Failure to make final payments with 90 days may result in buyer being disqualified from future Jr. Fair Livestock Auctions.
 Types of Bids:
Premium Bidding: This is the simplest way to support the FFA and 4-H programs for advertising purposes. As a buyer, by bidding using a Premium Bid, you are claiming no ownership to the animal and will be responsible only for the final call amount of the auctioneer (the Premium).
Home Bidding: Gives you ownership. See the Sale Office for more information.
Buyers Groups may bid together. Similar to the individual bidding, groups may bid using a Premium bid (no ownership of the animal, pay only Premium) or Home bid (take ownership, pay Premium and Market Price).
Project Donations can be made using the Project Donation Form. Project donations are NOT part of the sale and no mention will be made during the sale. The buyers and donors will be recognized in the paper following the fair.